Owner Resources
Information You Need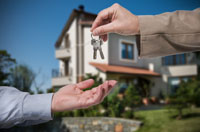 At Cal West-HMS, we treat your home as our own. We offer a wide range of property management services to fit your needs as a landlord or home owner, and tailor our services to ensure that you have the highest level of service for your home..
Cal West Owners Portal
H.M.S. Owners Portal Our Services
Resources & Forms
Documents
Links
New Laws and Important Updates
Have a Question?
Videos
Frequently Asked Questions
How long will it take to find a tenant for my property?
There are many factors that contribute to a property's value and the length of time to rent the property. Location, price and condition of the home play the largest roles. It is difficult to say that your home will rent in a specific timeframe but if your property is in good condition, in a good neighborhood and priced right, it should rent quickly. A typical home will rent in 45 days on average. This includes the marketing and showing period of the vacancy as well as the wait for a resident to take occupancy after the property is rented. In some cases residents have to give a 30 day notice. This period of time is included in the average as well. It could rent in a week or it may take longer than the average based on market conditions and other factors as we mentioned above.
View More